APPRECIATIVE WORDS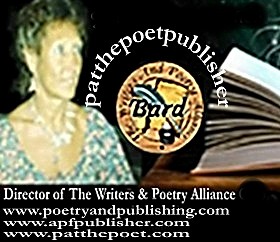 Dear Pat,
Re: My book titled "Whispers"

Here is a compliment to you regarding my book design. It is from a former poetry magazine editor who has authored several chapbooks as well as participated in anthologies.
"Karen, I got your book the other day and just had to tell you how adorable it is. Probably one of the very best covers and layouts I ever saw in a person's poetry book."
You have given me such a great gift Pat. I will always be grateful....Karen O'Leary.

Patricia Farnsworth-Simpson has done a very professional job bringing my book from cover design, to finished product. I would not have known where to start, and Pat made the process so easy for me. She did all the formatting, cover design...organized my poetry and even included artwork that compliments each page! After she had the book ready for printing, she also went above and beyond the call of duty and designed a webpage...set up my own bookstore and produced a YouTube video, as well as showcasing my book on her own website. Pat stands behind her work....I do believe that she handles each book that she produces as if it were her own! When my second book comes out, I can say without reservations, that Pat will be there with me! Ruth Thomas Re: my book titled 'Nature's Holy Grail'



To let any and all know....Just how dedicated you are in making Dreams become Reality!!!

A Fairy Godmother...could do...no better...The speed and caring you devoted to my ever changing book

holds the truth of the hard work. I couldn't ask....for a better person to bring my 1st book....to fruition...
You have helped me...create an ultimate goal...I can't thank you....enough!!!
You're a very talented and awesome Lady....Your work...has brought me much pleasure...
I look forward for you to help publish my other books!!! I recommend you....highly!!
~~~~~~~~~~~~~~~~~~~~~~~~~~~~~~~~~~~~~~~~~~~
Publishing is a talent that Pat the Poet can do with ease
All
To make a writers' dream become a reality; publishing books from the heart.

She has a way to put you at ease, this is a gift she gives so easily
Incredible as it seems to be
Many a writer Pat the Poet has created
Passionate she is for each writer to obtain a published goal
Seasonal contests always bring out all the new writers, seeking their first book
Only the best chosen poems are eligible by our peers
Newly published writer's are born by Pat the Poets' touch.
~~~~~~~~~~~~~~~~~~~~~~~~~~~~~~~~~~~~~~~~~~~~~
All of the Admin and the wonderful writers in the Alliance Will forever be engraved deeply in my soul....
Brightest Blessings to you and yours... ~Dena M Ferrari
Re : My Book titled "Poetry From The Earth"

Pat, I want to thank you for the wonderful job you did on my new book Mystery In The Mist. Your artwork and creativity is extraordinary and I am so pleased. I would never choose any other publisher but you.
Thank you so very much.Rochelle E Fischer


To Patfarnsworthsimpson-

I needed someone who I could trust to help me set up my web page but more importantly someone who I could entrust 20 years of my soul too. After trying to publish a book off some web page and going to the big publishers being a first time Author it was very difficult to find some one who I could completely trust that they would have my best interest at heart. From the first time I talked with you I felt a connection that was filled with interest and surrounded with respect. You gave me all your attention and within 1 week from our initial conversation I had a web page and a published book. You were very professional and very respectful of all my needs and you answered all my emails with respect and in a very timely manner. You worked diligently with me and gave me very sound advice when I asked or needed it. Because of you I have finally achieved a goal that I didn't think would ever come about. You made my web page very beautiful and it fits all my poetry well. I look forward to working with you for many more projects in the future and calling you my friend.
I know you do a lot of charity work and I know those people are blessed to have you.
Thank you again Pat for the Dreams you have helped me complete...I am going to start working on my second book right now!!! Your Friend- Richard W. Lamp


Pat Simpson took my dream of what I wanted in my book of poetry and magically produced it even better than I imagined. She is fantastic to work with and I Highly recommend her as publisher and hope you will check out all of her books that she has published for herself and other's.
God Bless , MAFLongfellow/Marilyn

Pat Simpson is a Passionate and fair Publisher for sure. She Made my book exactly how I love it.
I recommend pat for anyones book who wants to be published.
Pat is a wonderful person and you will be so happy with her work. I will Publish more from her in the future.
God Bless Pat, she is one of the best.
Elizabeth Maureen Marquez
" The Quarter Moon"

APPRECIATION
Pat Simpson The Publisher

Ariella Book (Pat the publisher) Cover is beautiful Design of each page is wondrous Drawings are outstanding
Thank you again dear pat I was looking over my book and was struck anew with how well done the book is you have given me a gift I will cherish evermore, dear Pat Joree Williams...
Pat Simpson did eight book covers for me I am delighted beyond belief when I see a cover that more than fulfils my dreams of what I anticipated! I have called you the best cover designer in the world Daveda Gruber.
Like you Joree, I am elated with the work Pat did on my book! I would recommend Pat's Publishing to anyone thinking about writing a book! I get floods of compliments on the fine book that bares my name, and it makes me proud, and so happy I took my dream to the right person! Elwood J Davis aka Raindance


My heartfelt thanks to APFPublisher

Pat for professional help and guidance in publishing my book of poetry.I'm looking forward to having
My next book published with her. I highly recommend them to any writer,poet.Pat APFPublisher.com
will make your dream come true.Thank you Pat God bless you. Poet Vienna Erich J Goller Ref: All my books

Christina R Jussaume
I have published 6 books, first with PublishAmerica which came out very nice. Then the next 5 books I had published with Pat I love the dedication she gives to making your book exactly what you want it to be. These last five books I cherish more because Pat works with you one to one and the final product is something to be proud of. so the publishers that I highly recommend is , www.apfpublisher.com You can see on my own website. http://www.Poetesscrjussaume.com

I want to thank Pat Simpson at p.f.p. for the amazing work that was accomplished in such a short time on my new book. It was a professional job from start to finish. Pat was amazing to work with and with her guidance, I believe we have a quality product.

Thanks to everyone who made my book a possibility.Hopefully we can connect again on a future project.

Kudos to all. author of "The Last Trail Ride" Roger L Scott aka Poet Cowboy

I am very grateful for the help pat gave me in designing and publishing my book DOWN THE ROAD WE CAME. The design of the cover and the chosen title all added to the meaning of the poems and stories inside. The artwork that you contributed is very special to me. It enhances thepresentation of my work. If you ever need a recommendation please let me know.
Robert Hewett Sr aka Poet Cottonwood



I want to THANK PAT and p.f.p publishers for all the wonderful work they did on my book "My Garden Is Growing".. There are not enough words to express just how grateful I am.. All that received the book love it.. From the cover all the way through.. I appreciate it so very much.. When I am ready to publish my next book I will be back right here.. Thank you~~~~~~
ref: Book My Garden is Growing
Carolyn Sconzo


I wish to thank Pat Simpson, P.F.Publishers and Lulu books for the excellent work that was done on my book "Pieces of Existence". It is a fine quality book. There is no doubt that without their guidance and hard work I would not be a published author today. I say now to all writers who think they cannot be published that "Yes you can". They are the light that guided me through the darkness and they will do the same for you. Pat can help your dreams become reality.
Joe Hartman aka Poet Joebirdies

A BIG THANK YOU
I just want to thank you at p.f.p.publishers for the hard work and dedication that you gave to me upon receiving my request to publish a book to benefit Alzheimer's Organization. The professionalism and dedication to my project meant as much to you as it did to me! I could not have asked for better people than you all to take on this life long project. Furthermore I would never have gotten my idea off the ground if it had not been for your personal help and speedy process in getting this charity work done. I really don't know what I would have done without you I can only hope and pray that my and all other poets work within the book "Standing Tall When Feeling Small" will in someway help to cure this awful disease. You rate 100 out of 100 in my book!!!!! I am looking forward to getting a second book off the ground in the near future and I will natrually go to you for this project as well. Many, many thanks go out to Pat Simpson for her loving devotion on this.God Bless you and all that conspired in this worthy cause.
Terri Wright
Ref Book "Standing Tall When Feeling Small"