First I give thanks to Patricia Farnsworth-Simpson,

my editor and publisher.
Her beautiful cover design was the inspiration
to begin this journey.
Without her generosity and guidance,
this book would have never been born.
She is a published author and the director of
The Writers and Poetry Alliance.
~Karen~

Now It Is With Great Joy That I Portray
My First Book

ISBN:
978-1-257-01867-3
A Writer's Wings
Creativity Whispers
in the wings
Sometimes it blows
in gusts
Sometimes it trickles like
sprinkling rain
Sometimes it dries up
for a season
Then, it whispers
once again...

Karen,
"Whispers" is an easy reading book of poetry. I found it to be "literally relaxing". Being an
editor/poet, I keep a dictionary near me most of the time. I did not have to consult the dictionary
once while reading "Whispers".
Your book is very uncluttered and clear. Your use of alliteration is entertaining. The illustrations
supplement the title of the book subliminally.
The poems I particulatly liked were: "The Patriots","Decisive With God","Rich Man","Grandma",
"Paraclete Befrienders","The Puppet","A Moment of Freedom","Gym Locker","In Unity...", and of
course "Whispers".
Keep creating, never rest your pen!!!
Yours in Words,
Arthur C. Ford,Sr.

* Beautiful video and a beautiful presentation of your book Karen. . .
Your poetry is both heartfelt and so pleasing to read.
Best wishes for much success with your book.
Thank you Pat for another wonderful video.
Cottonwood aka Robert Hewett Sr.
See more comments like this in the side panel...
I Thank you all for viewing this video
and those of you that left a message
I applaud you for taking the time to do so ....
Karen O'Leary's book was no whisper to publish
it was one long happy joyful inspirational
SHOUT...
As was this video that I created for her ....
With all my work on this book is done now
All I hope is that the people of the world
get a chance to read her wonderful
"Whispers"
To Purchase a Copy of My Book
Please Click The Buy Now Button Below
If you like my page please do me a great favour by clicking this link to vote for it...
http://cgi.top-25.com/top-25.cgi?arts&Patspassion

Anthology Book I helped create
Featuring Myself and 72 other Poet Friends after I won a free book publishing Competition at the Writers & Poetry Alliance...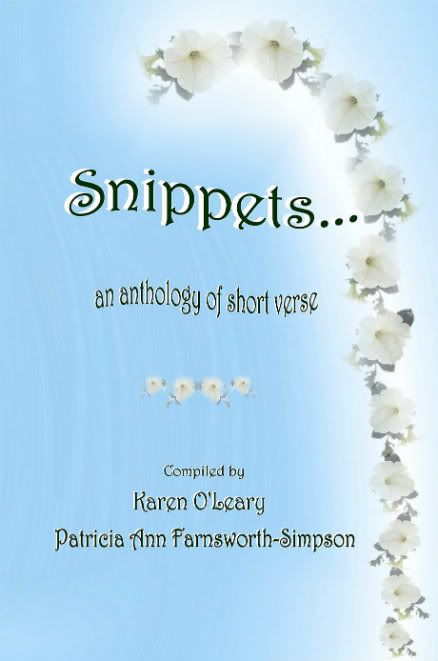 See Its Promotional Video Here...
To Get Your Copy Click The Buy Now Button Below