BOOKS BY
PATRICIA ANN FARNSWORTH-SIMPSON
AKA
PAT SIMPSON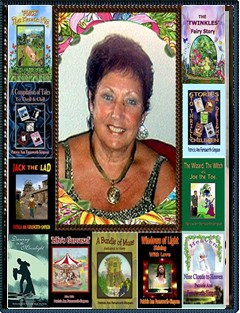 My Awards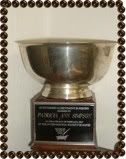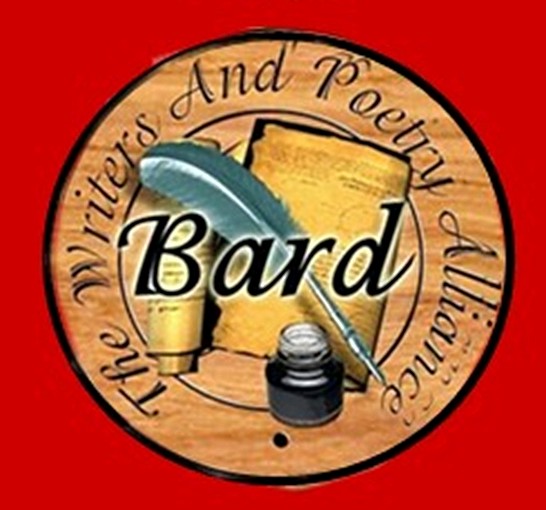 Voted Best Poet For
'All Round Poetry' In the 2008 year Awards
at christianstorytellers.com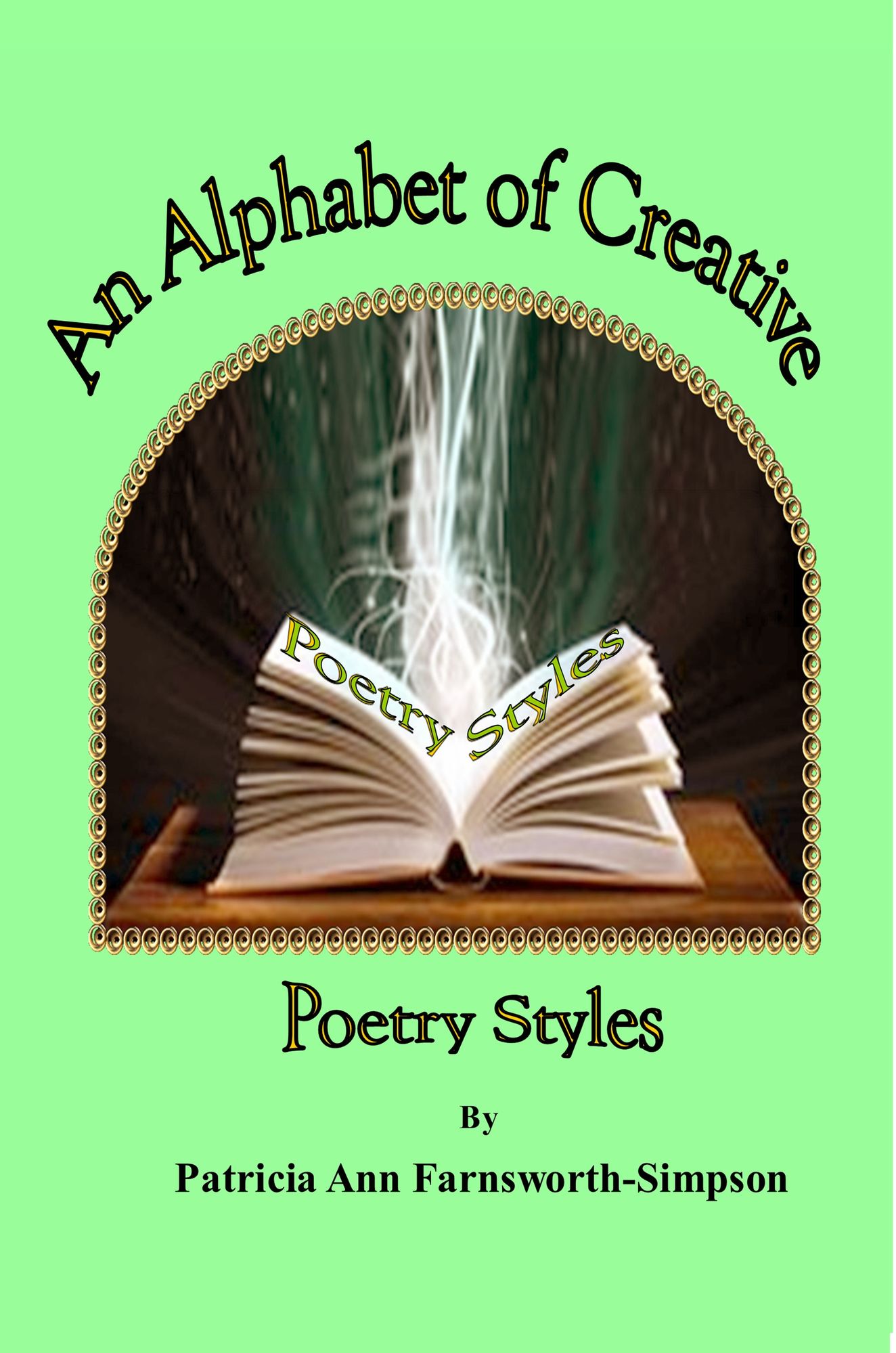 http://www.lulu.com/shop/patricia-ann-farnsworth-simpson/an-alphabet-of-creative-poetry-styles/paperback/product-23427475.html
My latest most up to date book portraying all the styles I have created using all the Alphabet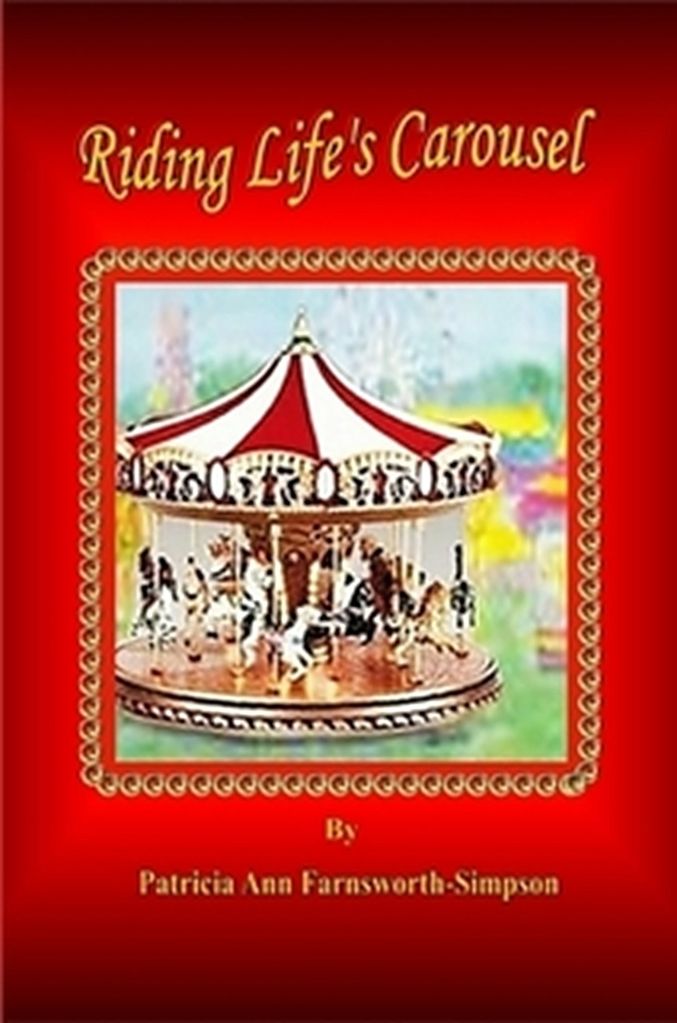 My life story
poetry book that takes you a walk through my life,
told in all honesty to show the raw heartaches and the joyful funny moments
plus some hilarious situations and mishaps like we all face just through living
Buy a copy here
A book of poetry that embraces many old and new
poetry styles ... with all new ones being Pat's own created
new styles and all those done by her poet friends too,
having a full description about each creativity technique...
This book truly does embrace stylish poetry and in doing
so it covers many themes and topics so that everyone
reading will find they too are enjoying poetry
And embracing it's styles ...
Click Play below to see video of all my books
ISBN: 978-0-6151-9123-2
Publisher: P.F.P.Publishers
A poetry book that is full of inspired poems given to Pat by her Spiritual Guiding Teachers above. It is a book written to let God's light shine through in her words to give much joy to Christians and hopefully inspire other's to see The Light! The Light of God above that shines down always to guide and protect us... so that one day we will be light enough with love in our Soul to rise to Heaven above with it...
If you're in pain……….There are words to help heal!
If you feel lost…………There are words to guide!
If you are sad………….Let these words bring joy!
If you feel remorse.....Let these words wash it away!
If you have faith………These words will inspire!
If you feel love…………These words you will adore!
God Bless! I pray you enjoy
Pat xxx
Just by looking at the fantastic cover one can tell that they are in for blessed treat inside. And it turned out to be a pleasure and a uplifting experience to enjoy over and over at my leisure time and time again. This outstanding author poured her kind blessed heart in to each and every word The poems are one of a kind filled with love and faith, so much can and will be learned as you eyes read in delight, .After reading it you just have to feel relieved of some of the pressures that come in everyday life. Your faith will surely become stronger.
Fantastic book for all to enjoy.
MICHAL L SCHUH
Available now from this link...
http://www.lulu.com/content/1921783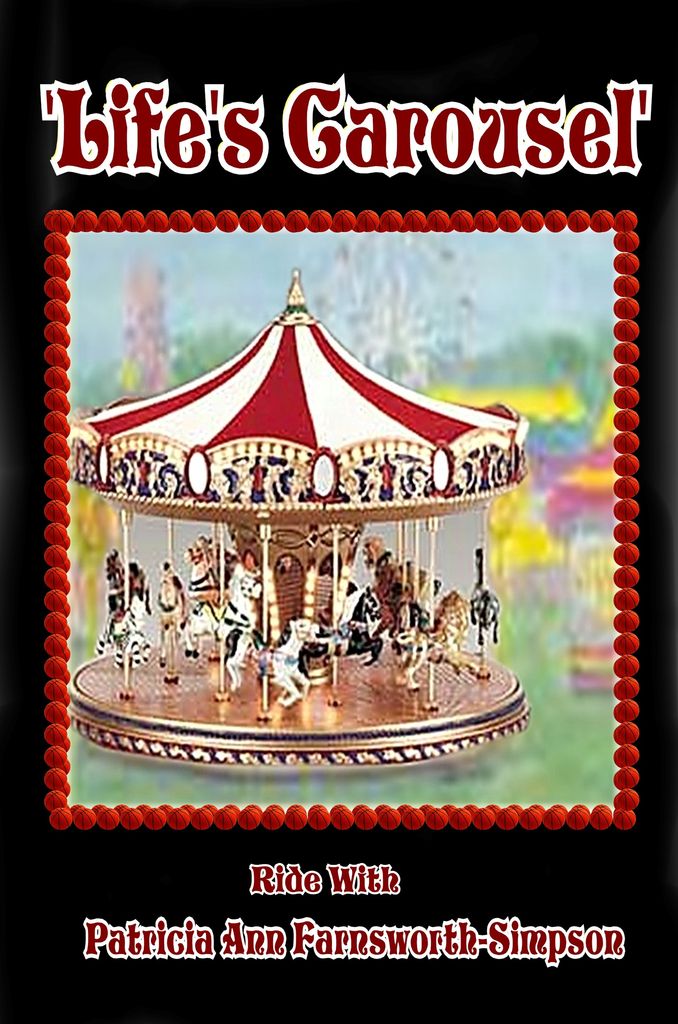 ISBN: 978-1-4357-2528-7
This is a collection of poems based mainly on Pat's life experiences told in rhyme clearly portray all the imagery and her outlook on life. It starts off on her life as a child brought up in the forties in a coal mining village. All her raw emotions are clearly apparent throughout the book with poems that covers life as she saw it through a child's eyes in the 1940's. it is full of both sad and happy memories. Pat's love of laughter, life and nature is very apparent throughout the entire book with most poems being about the true to life funny experiences she has had and seen. Her genuine down to earth approach about life and living her great love of travel is clearly seen.Within this books read expect to be moved in all directions.
To Buy it Click Here ... http://www.lulu.com/content/paperback-book/lifes-carousel/2342232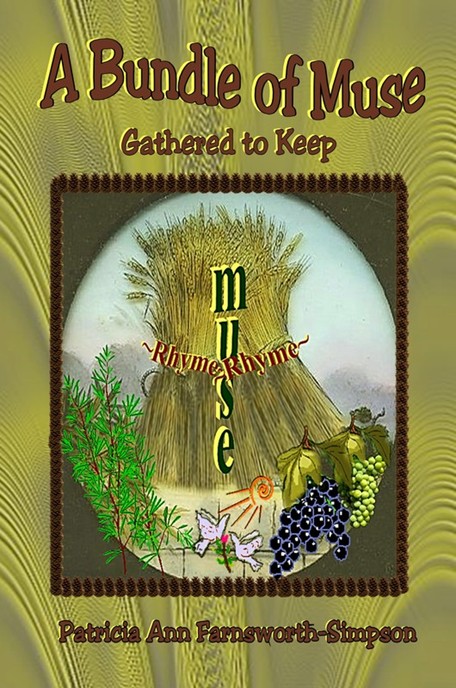 ISBN: 978-1-4092-6076-9
In this book you will find many poems that first came into Pat's mind as a simple muse of thought that she soon developed into a poem to portray it to others in her usual rhyming way... It is titled a bundle because it is full of varied themes covering life as Pat knows it today, plus her love and belief in God and the promise he gave us all of spiritual life to follow. There are poems all people will relate to at sometime or other as they really do cover all the emotions we have to face in life… Be they sad through loss and pain or happy with the great joy of children and family life, the beauty of the world and all its lovely creatures that we share it with...... Pat says that if just one of her poems helps another person reading to be inspired by the portrayal of her love for God or helped through understanding to find peace in their hearts then to her the book is successful.
To Buy It Click Here... http://www.lulu.com/content/paperback-book/a-bundle-of-muse/5861780
BOOK ISBN NO:1-4241-1090-4
This is Pat's first published book which contains all of the poems Pat wrote whilst running the hotel and working as a healer in the Scarborough Spiriualist Church. So all of these poems are inspired verse about God and his love, Spiritual Guides, plus poems on all of life's emotions. Also within its pages are poems about meditation, healing and self healing.
ISBN-13: 978-1425987299
This book of poetry contains a variety of poems that show her emotions and outlook on life being both sad and happy, and there are also many poems that portray her sense of humour and her imagination through a variety of short stories told in rhyme. There is a poem for everyone to enjoy and be moved by including a selection on Chinese astrology and the meaning of colours, through many of these poems pat portrays her love of life and God!
http://www.amazon.com/Dancing-Moonlight-Patricia-Ann-Farnsworth-Simpson/dp/142598729X/ref=sr_1_3?ie=UTF8&s=books&qid=1200574789&sr=1-3
ISBN No: 978-0978348304
A wonderful book that will take you on a spiritual journey through Pat's love of God, faith and her belief in life everlasting in Heaven above... it is a book that will inspire and up-lift all especially Pat hopes those with a need...for whom she prays for constantly!
http://www.amazon.co.uk/Nine-Clouds-Heaven-Patricia-Simpson-Farnsworth/dp/0978348303/ref=sr_1_4?ie=UTF8&s=books&qid=1200573893&sr=1-4
Pat's Children Poetry and Story Books
Jack The Lad is a fictional story of events that at one time did happen about how a boy and his Mother are chucked out of their colliery house onto the streets when his Dad dies as there is no other miner living in the house. It is a story that shows how the young lad fights back, to get a job himself, home and security... It is a easy read that will be enjoyed by children all ages and one that many folk with a mining background will find they can relate to.
To purchase click Link
http://www.lulu.com/content/1668697
JACK AND THE LAD IS ANOTHER EXAMPLE OF THIS POETS GREAT MIND AND LOVING HEART THIS BOOK IS A GREAT LEARNING TOOL FOR SOME OF LIFES LESSONS FOR THE YOUNG... VERY EASY TO READ... IT IS FICTION COME TRUE THOUGH THE WORDS OF A LOVING POET... BEAUTIFUL IN EVERY WAY... A GREAT STORY MADE UP BY A CARING SOUL
MICHAEL L SCHUH
The Wizard The Witch & Joe The Toe is a wonderful fantasy story told in rhyme about a deformed boy growing up tormented and neglected so that when grown all he is fit for is to herd the goats...Until one day when he welcomes a lost old Wizard into his shack giving him his own bed to lie in...the Wizard then befriends him helping him to stand straight and tall to become a man of real good standing within the community...he gets married and becomes a Dad.. but unfortunately neither his troubles or the Wizards are over because because a nasty evil jealous Witch intervenes with the Wizard by stealing his own Dragon to fly on ....This poor Dragon when not flying with the Witch on his back he is chained and locked up to stop him flying away...eventually though like all good stories after many trials and tribulations it does end with them all living happy ever after...This is a most remarkable story that not only children will love but so will adults too.
To Purchase Click this link
http://www.lulu.com/content/1517607
THE WIZARD THE WITCH AND JOE THE TOE COMES ALIVE
THROUGHT THE WORDS THAT POUR OUT OF PAT"S BIG HEART AND SOUL IN THIS BOOK IT IS SO BEAUTIFULLY WELL WRITTEN AND THE PICTURE ARE FANTASTIC. I RECOMMEND IT FOR PEOPLE OF ALL AGES AND READING SKILLS... BEAUTIFUL JOB PAT... I LOVED THE WHOLE STORY BLESS YOU
MICHAEL L SCHUH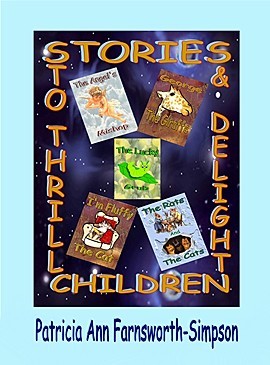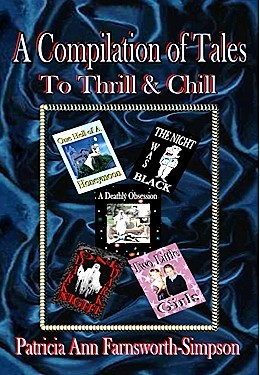 Stories To Thrill and Delight
Five wonderful different stories are in this book each one very different from the other yet all wonderful tales that will excite the children thst read, written in rhyme in Pat's usual style and portrayed with charming pictures to delight and enhance the prentation of the book, This is a book that will give children a wonderful read and at same time show them some good old fashioned morals...

To Buy it Click Here http://www.lulu.com/content/paperback-book/stories-to-thrill-and-delight/2838652

A Compilation of Tales To Thrill & Chill

This set of five stories written for children were made up by Pat to entertain and amuse her grandchildren, designed to keep them on the edge of their seats with suspense. wanting to hear more. All thrilling stories in their own way but the first story Deadly Obsession is linked To the second story One Dark, Dark, Night To show how an obsession for someone can be very unhealthy hurting not only the person stalked but also the one that is doing the stalking, portraying how they can end up living in the darkness they created making life a living hell. This is a very intriguing story that will both thrill and delight but then as you read on you will see how once again Pat can turn a story round to let love and light shine through for the story to end in love and happiness.…… Anyone who saw and loved the film Ghost Starring Patrick Swayze will greatly enjoy this story too….

To Buy It Click Here
http://www.lulu.com/content/paperback-book/a-compilation-of-tales-to-thrill-chill/2811916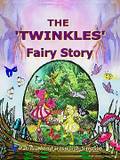 ISBN: 978-1-4092-4951-1
This book is a wonderful story starting with the Fairies story that tells of how they lose their wings through a jealous Witch's spell,turning them into little people who twinkle instead of flying. Thus becoming vulnerable to predators like Spiders and Wild Cats! The Witch's story tells about her jealousy of them being pretty with wings to fly when all she's got is a broomstick!It tells how she does find the spell to turn herself into Fairy only to be found out later by the Fairies that she is a Witch! Read how she destroys her best friend the Broomstick in the act. She is a very wicked Witch indeed, but not as evil as her Mother that did also many years before her curse Fairies making them be Glummies'instead, Ugly little people condemned to a life in the dark rain forest...But the spells do get broken for a happy ending to be found ... Find out how the Bluebird helps this to come about...Then read too how the Spider becomes a King loved by all!

Buy it Click Here ...http://www.lulu.com/content/paperback-book/the-twinkles-fairy-story/5105355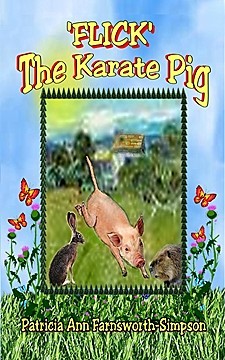 ISBN: 978-1-4357-2843-1
The story of Flick begins at birth when born the runt of the litter gets rejected by his Father who is the farmers prize boar, this leads to him being badly tormented and teased by his brothers. But through the love of his Mother and sister Julie he lives to triumph and overcome all his set backs. Then with new found confidence he turns what was once an embarrassing feature into an asset. Without giving the story away Flick is a very unusual pig that does eventually become admired by all to end up making friends with a wonderful wild Hare a great character who after being helped by Flick becomes his best friend… These two then as the story evolves strike up a very strong friendship with a Beaver named Bodger. All wonderful characters that make this a story book for all kids to enjoy and delight in...

To Buy it Click Here ...http://www.lulu.com/content/paperback-book/flick-the-karate-pig/2697561
ISBN No: 978-0-9795460-2-0
This is a lovely delightful book of short stories for the younger children, each story will enchant and delight any child and they will love hearing how these lovely creatures all live and play together in perfect harmony!
http://www.amazon.com/s/ref=nb_ss_b/102-5018509-8478509?url=search-alias=stripbooks&field-keywords=PATRICIA ANN FARNSWORTH-SIMPSON&x=11&y=16

CLICK HERE TO GO TO OUR POETRY ALLIANCE SITE ...http://poetryandpublishing.co.uk/